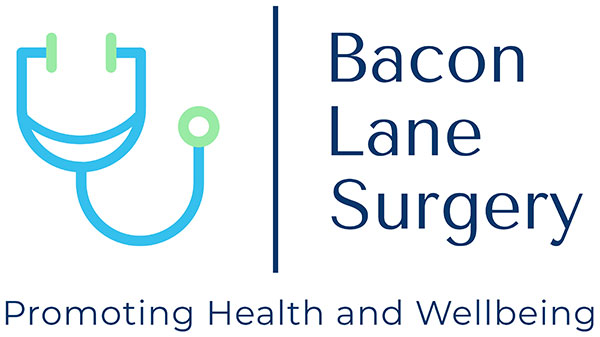 Bacon Lane GP Surgery
11 Bacon Lane, Edgware HA8 5AT
Current time is 12:49 - We're open
Telephone: 020 8952 5073
baconlane.surgery@nhs.net
Latest News (click title to open):
Patient Online Access
Online access allows you to do a number of things through an app without contacting the practice. These include:
Request Repeat Medications or Prescriptions
Book Appointments Online (Not Currently Available Due to Covid-19)
See your immunisation history
See your blood results (coming soon)
In the future, you will be able to access a part of your medical record
You need to use one of the applications below in order to access these features
If you're a patient at our practice you can now use the new NHS App, owned and run by the NHS, the NHS App is a simple and secure way to access a range of NHS services on your smartphone or tablet.
You can use the NHS App to:
check your symptoms and get instant advice
request a repeat prescription and choose a pharmacy for your prescriptions to be sent to
book and cancel appointments, see details of your upcoming and past appointments
search trusted NHS information and advice on hundreds of conditions and treatments
securely access your GP medical record**
choose to donate some or all of your organs and check your registered decision
To sign up for your NHS login you will need
Your NHS number* or name
date of birth
postcode
A mobile phone and number
*If you do not know your NHS number, please click here. Using your NHS number will give you the best chance of matching to your NHS record.
**not currently available
For more information go to www.nhs.uk/nhsapp
Connect to your GP services online with Patient Access, and save time for the important things in your life.
Patient Access connects you to healthcare services when you need them most.
Book appointments, order repeat prescriptions, explore your local pharmacy services. View your medical record**, including test results, immunisations and allergies, Securely share your medical record with healthcare professionals of your choosing, without the need to contact your practice and message your GP directly from within Patient Access at home or on the move.
Register with Patient Access here.
To access all features of Patient Access you will need to verify your identity with the surgery with photo ID. Click Here to do this
For more information go to https://www.patientaccess.com/
For information on how to link your GP practice once you receive your registration details, please click here.
Bacon Lane Surgery
Monday
08:00 until 18:30
1900-2030: Booked appointments only. Please do not attend after 1830 for any reception/general related matters
Tuesday
08:00 until 18:30

Wednesday
08:00 until 18:30

Thursday
08:00 until 18:30

Friday
07:30 until 18:30
1300-1400 - Phone lines may be closed for practice meeting. We will reopen them as soon as the meeting is completed
Saturday
CLOSED

Sunday
CLOSED